Mudita Pure Charcoal Black
Your modern minimalist phone. Essential functionalities, an eye-friendly E Ink display, high quality components, and a unique operating system created with your well-being and privacy in mind.
Lowest price in the last 30 days: $369.99
Current delivery time: EU 1-3 working days, NON-EU 5-7 days.
14 days money back guarantee.
Selected features

E Ink display

Ultra low SAR

Open Source OS

Long-lasting battery

Music player

Bluetooth

Meditation timer

Calls & texts
Why Mudita Pure?
Smartphones help us in many ways but too often they become a time-consuming burden we carry with us all the time. We decided to build Mudita Pure to deliver: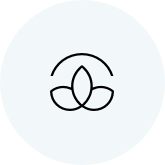 A premium feature phone,
which we couldn't find in the current market.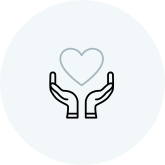 A device that helps you,
enhance your offline time and look after your well-being.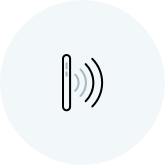 A phone with an ultralow SAR value,
if you want to minimise your mobile radiation exposure.
Clean design
Minimalistic design for simple living. Pure was designed to be both simple and neutral. It will not interfere with your life too much, allowing you to unburden yourself from overly immersive technology.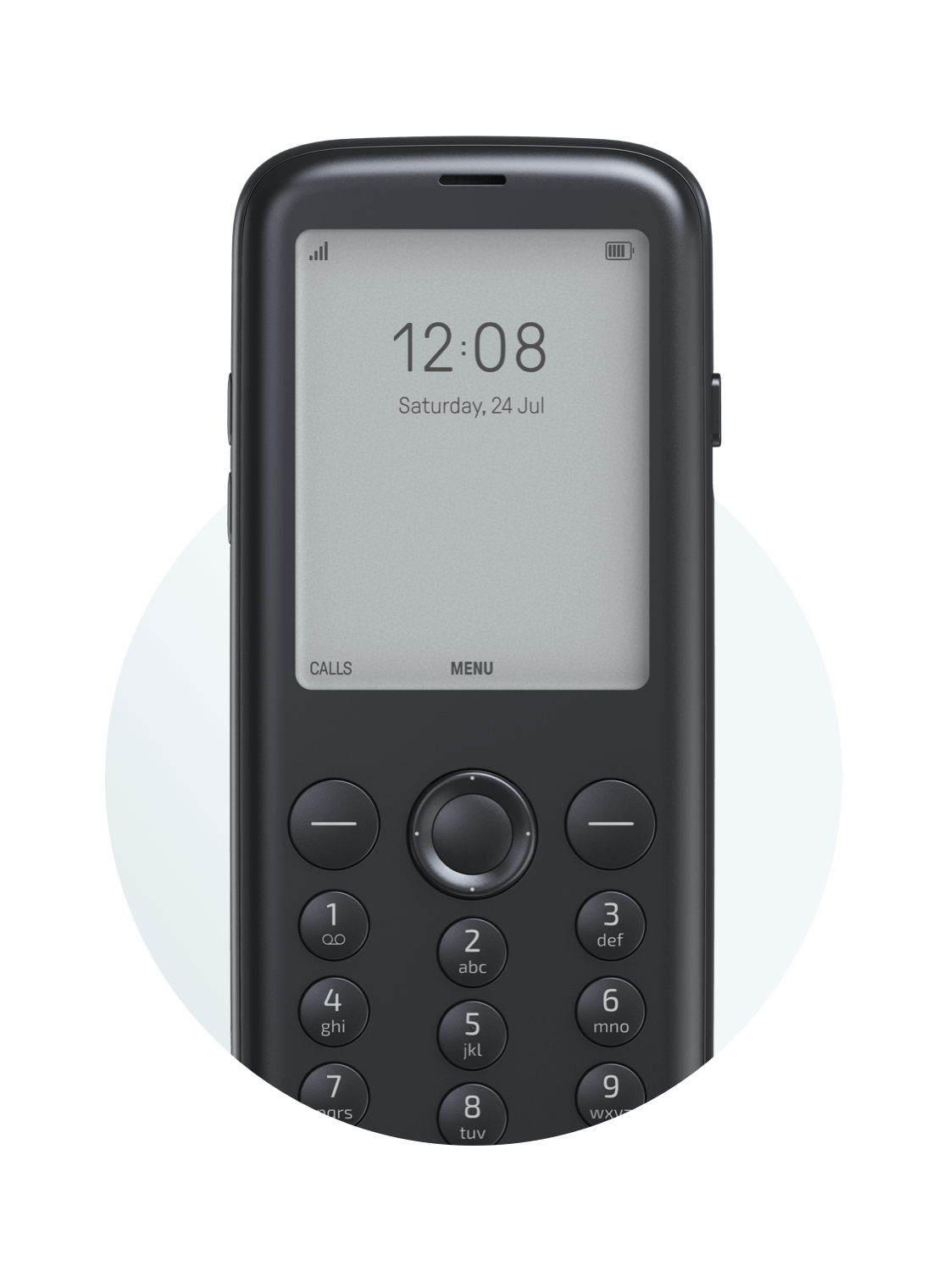 Easy to read E Ink display
Our modern, high density 2.84" E Ink display with a resolution of 600x480 and PPI of 270 and support of 16-grayscale makes the screen super easy to read in normal light (perfectly readable with no need for a frontlight in normal conditions). The screen has a pleasant, paper like, natural feel.
Customized display lighting
Pure's screen doesn't emit blue light directly into your eyes. Most smartphones dazzle us with a direct frontlight, whereas Mudita Pure has a special layer of reflective foil which guides the light directly onto the display. It is more neutral for your eyes and shouldn't interrupt your circadian rhythm.
Phone with ultralow SAR value

Mudita Pure is designed to reduce SAR (Specific Absorption Rate) value as much as possible. Laboratory tests have confirmed that Mudita Pure has lowest HEAD SAR value of any mobile phone on the market measuring at 0.06(W/kg). In order to achieve this, we've made our antenna with in-house shielding, using custom-developed technology, which we created in-house.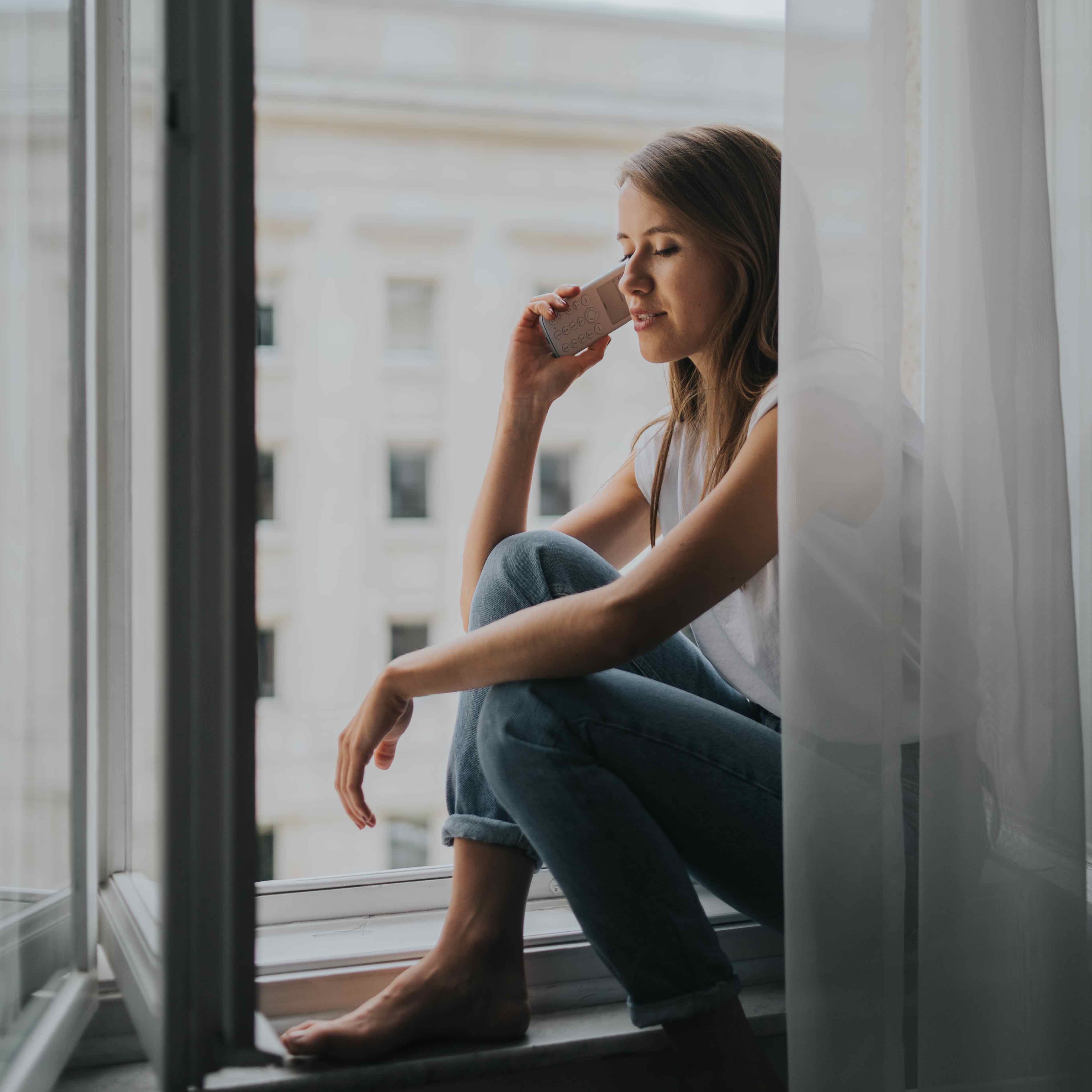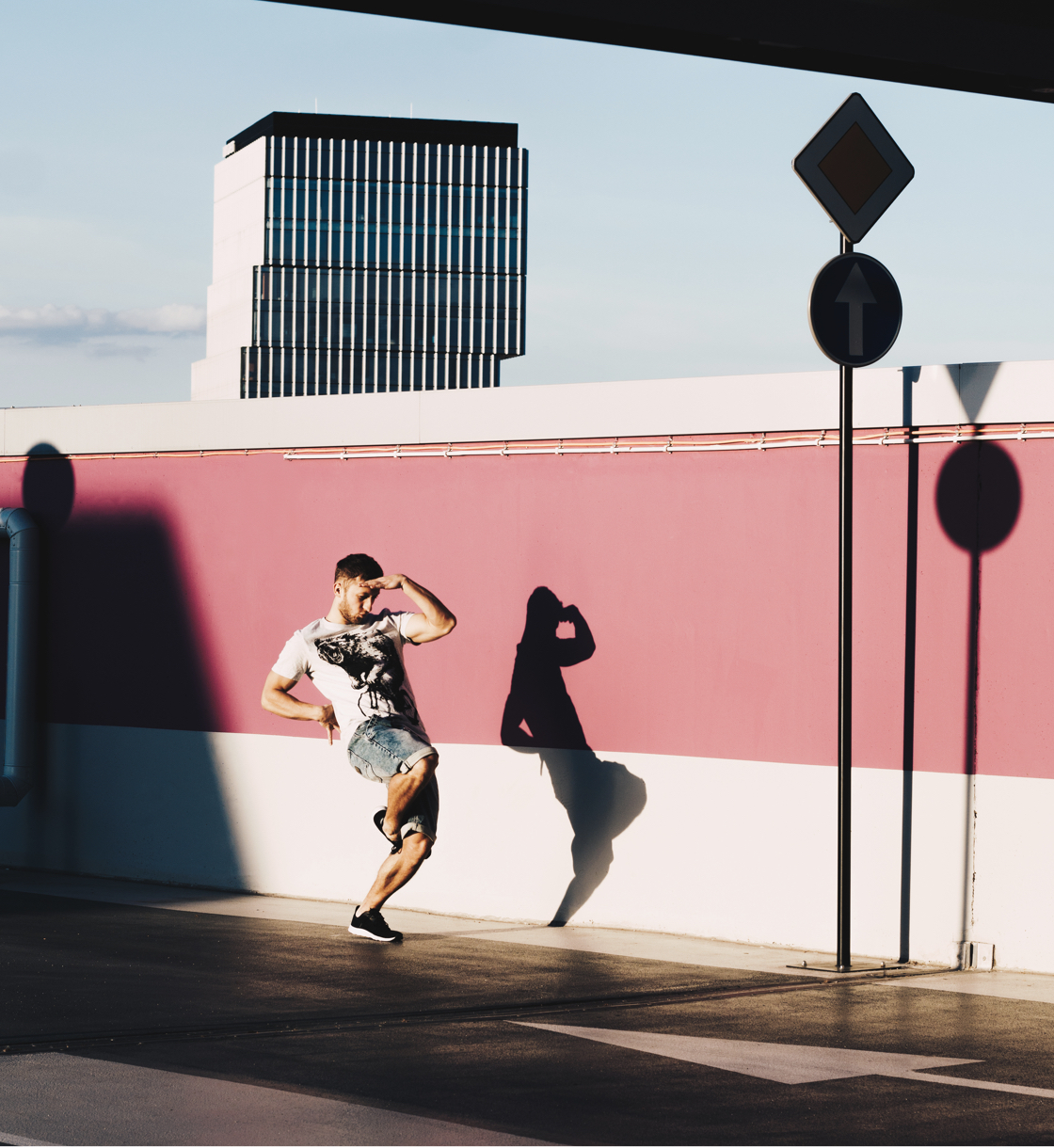 Music

Music for your ears. We decided to take special care to ensure that Pure will sound pleasant and uninterrupting. Mudita Pure was equipped with a great Harman speaker, headphone jack plug and Bluetooth.
Long lasting, replaceable battery

Our dedicated OS features super efficient power management. With an E Ink display that only consumes battery when the content needs to be changed and practically none with data transmission. We're still testing the best solutions, but our estimated battery capacity is 1600mAh.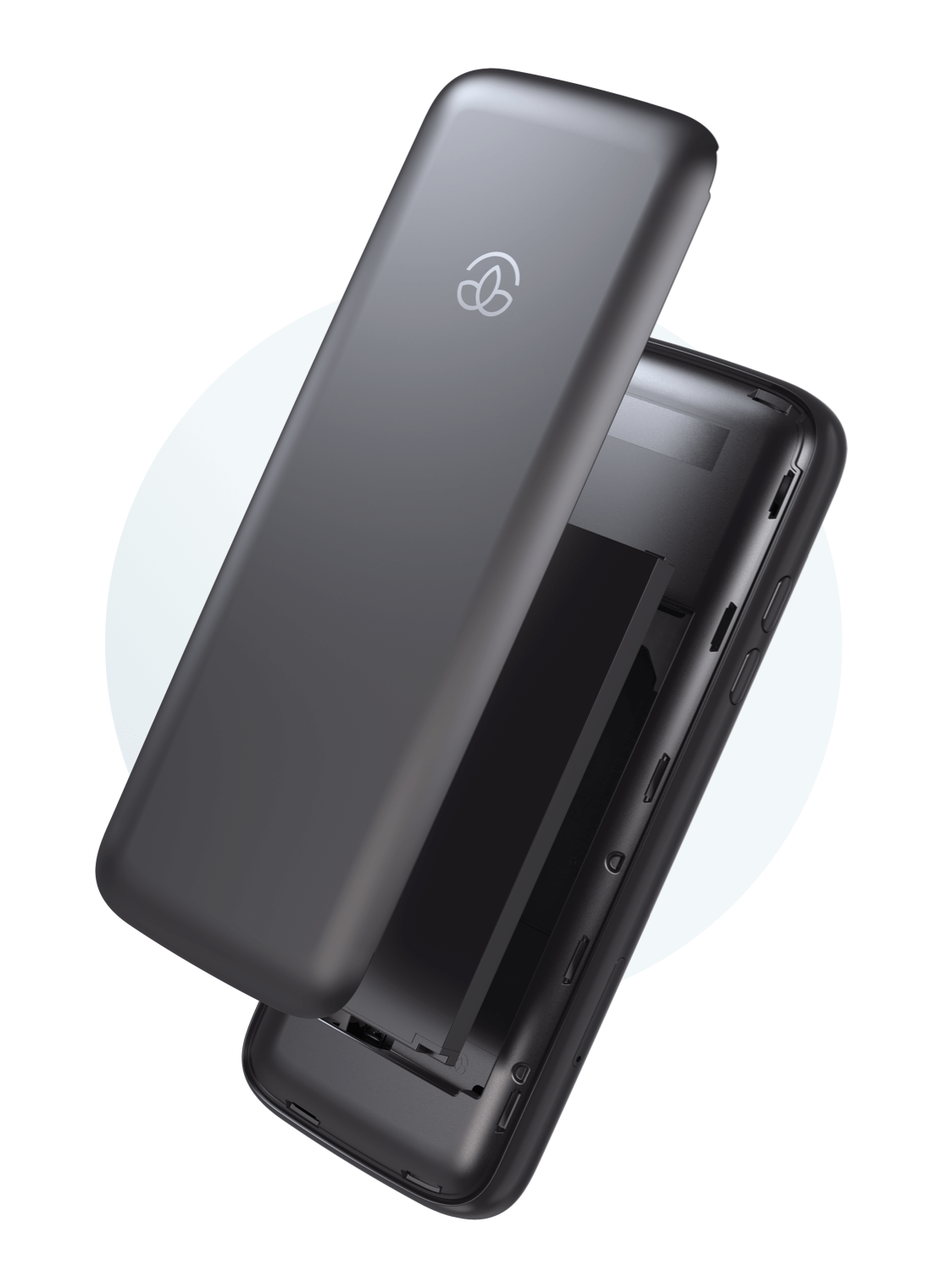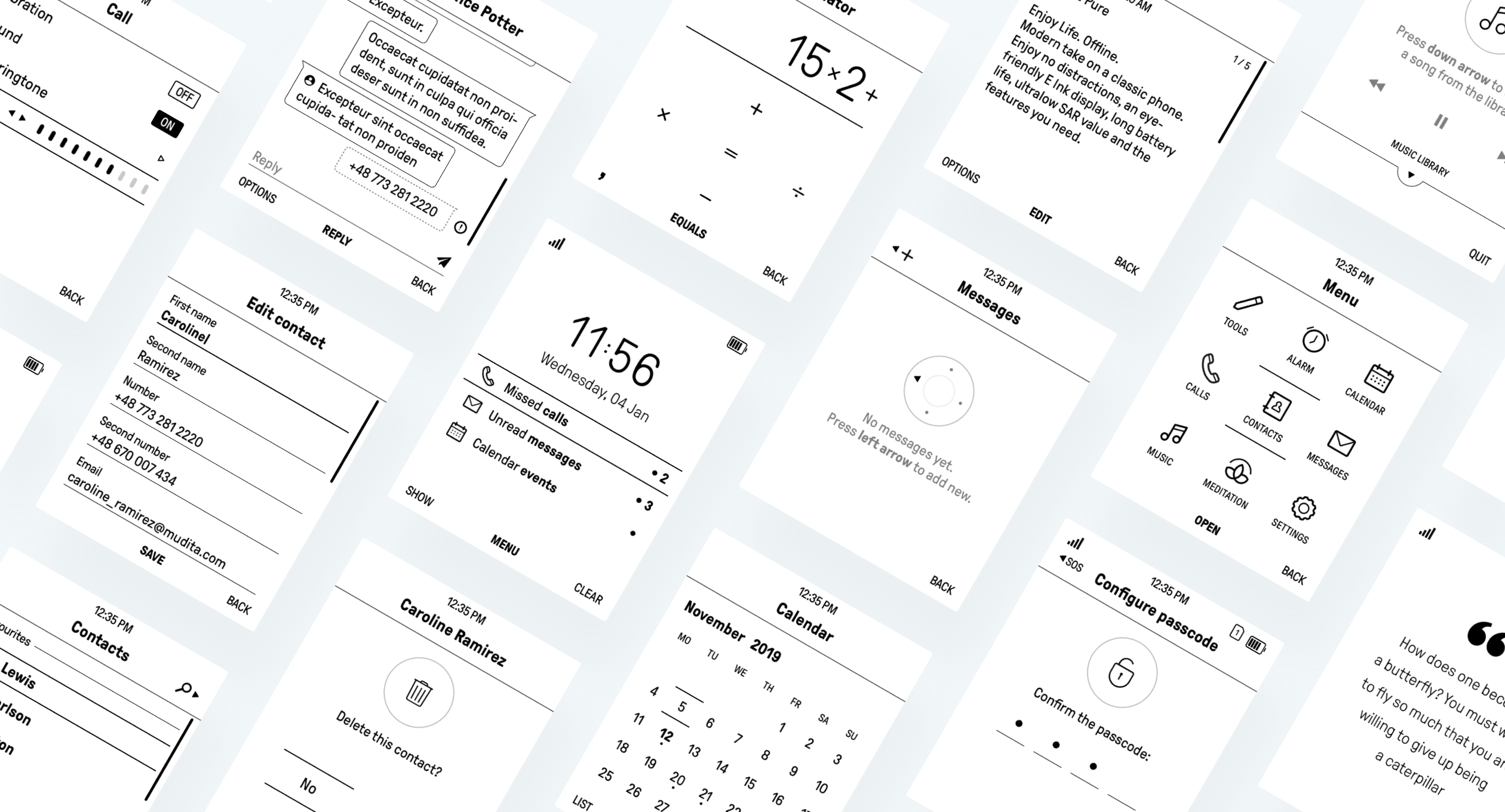 Mudita Operating System
MuditaOS is a light Open Source operating system created in-house by some brilliant minds. It was tailored for the E Ink display and great power efficiency. The system itself is designed to be minimalistic and non-distracting to help you concentrate on what matters most.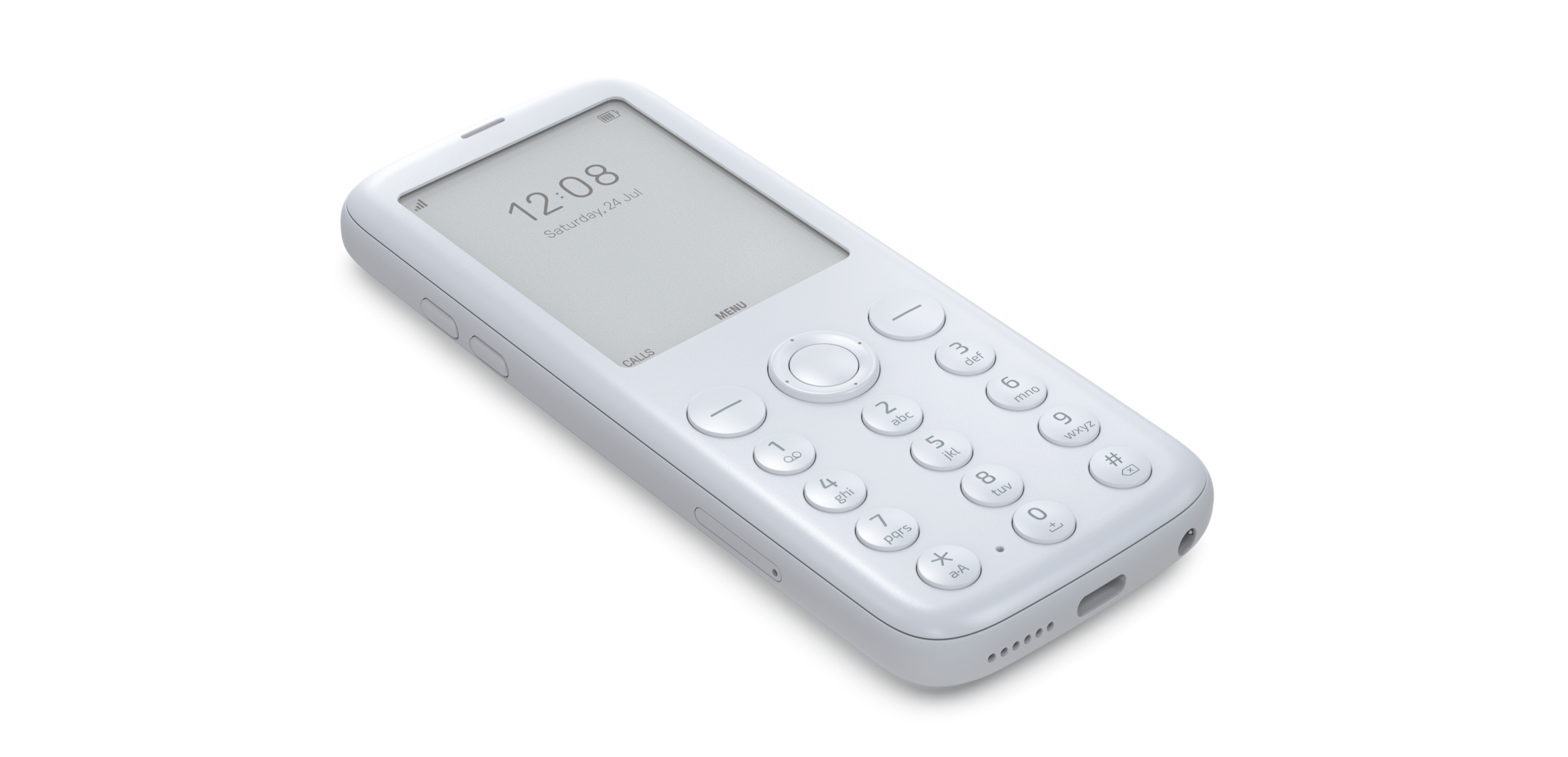 Pure as data modem

Keep your internet on your desk, not in your pocket. Mudita Pure can serve as a data modem for your notebook or desktop computer - just connect it via USB C cable.
Meditation and relaxation

Quieten your mind. Cutting the information overflow helps to reduce stress and anxiety. The Meditation Timer comes with customizable session lengths and statistics. A simple, yet very useful feature for all meditation and yoga enthusiasts.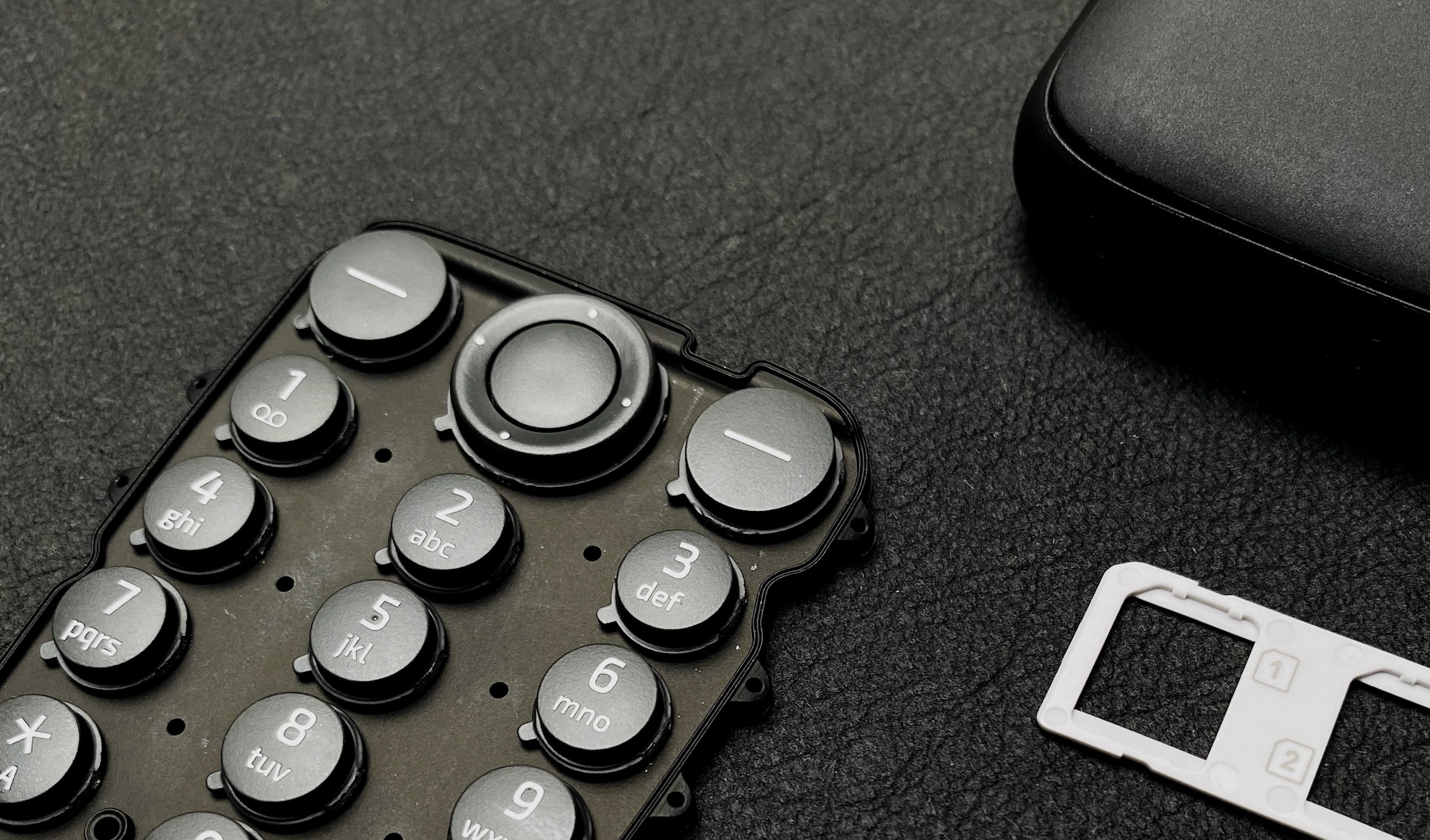 Conscious production
Our mission was to use the most responsible options available. Our every choice reflects the pursuit to provide a more fair trade and ethical device. ​Mudita Pure was not only designed and developed in Europe, we also produce as much of the phone as we could locally.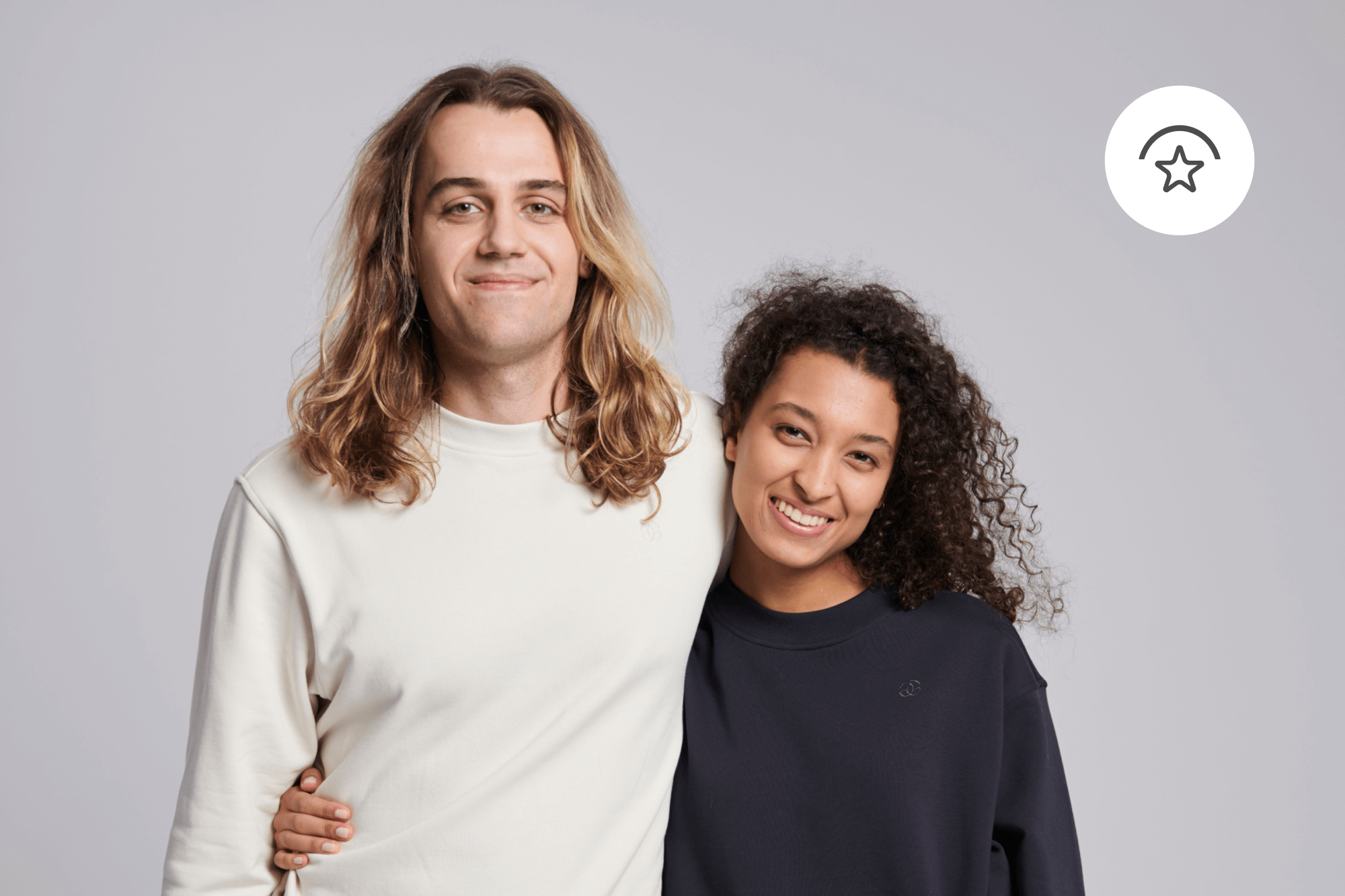 Pioneer Club
Purchasing Mudita Pure grants membership in Mudita Pioneer Club: a community of Mindful Technology enthusiasts and creators, where we celebrate your individuality and commitment to our mission. Pioneer perks include: an insider newsletter and access to a restricted Pioneer category of Mudita Forum, a chance to shape the Mindful Technology of tomorrow, priority access to beta-tests and the best deals (even 40% off) on our new products.
More Information
Colors
Charcoal Black
Dimensions

Weight
140 g
Display

2.84'' E Ink (600x480px)

270 PPI

16-grayscale

Scratch resistant

Material
ABS 727
MCU

Arm Cortex-M7 600MHz

512KB Tightly Coupled Memory (TCM)

Memory

64 MB SDRAM

16 GB eMMC flash storage

Network and connectivity

2G, 3G, 4G/LTE

Global LTE, UMTS/HSPA+ and GSM/GPRS/EDGE coverage

GSM frequencies: 850 / 900 / 1800 / 1900 and LTE

Bluetooth 4.2

USB type-C

No WiFi, no mobile data on the phone

Tethering: share internet connection via USB

SAR (Head)

EU:

0.06 W/kg (over 10g/Cellular)

0.09 W/kg (over 10g/Simultaneous Cellular + Bluetooth)

USA:

0.07 W/kg (over 1g/Cellular)

0.14 W/kg (over 1g/Simultaneous Cellular + Bluetooth)

SAR (Body)

EU:

0.62 W/kg (over 10g/Cellular)

0.63 W/kg (over 10g/Simultaneous Cellular + Bluetooth)

USA:

1.13 W/kg (over 1g/Cellular)

1.17 W/kg (over 1g/Simultaneous Cellular + Bluetooth)

SIM Card
Two nano SIM card slots
USB

Charging

Mass storage

Tethering

Desktop App

OS
MuditaOS (Open Source)
Audio

Loudspeaker, earspeaker & microphone by Harman®

Audio playback format: MP3, WAV, FLAC

Headphone jack (3.5 mm)

Bluetooth audio playback

Battery

Capacity: ~1600mAh

Type: Li-Ion

Charging: 100% - up to 3 hours

Replaceable: Yes

Sensors
Ambient Light
Language versions
English, Spanish, French, German and Polish
Temperature

Working temp: 0°C to +40°C (32°F to 104°F)

Storage temp: -25°C to +70°C (-13°F to 158°F)

Other

White and sunset red flashlight
In The Box
Box includes
Mudita Pure

 

USB cable

 

Built-in, replaceable rechargeable battery

 

SIM ejector pin

 

Quick Start Guide
Shipping
Standard delivery
Free shipping with purchases over $290.00
Returns
The customer can return any item within 14 calendar days from the date of receipt. Please note: the customer is responsible for covering the cost of shipping the item back to Mudita. All details are outlined in the Terms of Sale available on our website.